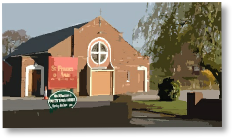 St Francis of Assisi - Llay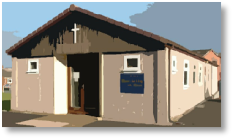 Christ the King - Rossett




Let us pray for the sick
John Blackman, Simon Bowen-Jones, Rose Byrne, Danny Carr, Pat Cummins, Barry Foster, Mary Gaffney, Rev. Owen Hardwicke, John Harkin, Jane Huxley, Eva McCallum, Veronica Marlow, Jean Partington, Debbie Riley, John Thompson, Peter Williamson.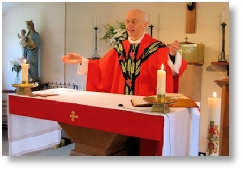 "Novena"
Issue 16 (Autumn/Winter 2017/2018)
Some copies of this magazine available from the back at £3.50
The "Link": Latest edition of this, our Free Diocesan Newsletter, is now in the porch. Do take a copy.
"Into the Future"
A Pastoral Plan for the Diocese from Bishop Peter. This is a background paper which outlines the principles by which the churches and parishes of the diocese will be rationalised. Copies have been e-mailed to all who receive the bulletin via email and printed copies are also available from the back. Any responses should be made to the parish priest in writing. This is an important paper and will affect us all – and with regard to Mass times in the diocese – quite soon, too. Please read it and expect to hear much more about it in the near future. Copies available from Parish Office.
Bishop Peter has sent out a second Pastoral "Into the Future" paper explaining the proposals for the reorganisation of the parishes of Wrexham Diocese.
View Pastoral letters HERE
We Remember in our prayers
Those whose anniversaries occur this week
21st Canon John Thompson, Bertha McDonald, Kenneth Barnes, Mary (Molly) O'Connor
22nd John Edwardson
23rd Thomas Daley, Daniel Hannington
24th Lily Wotton, Henry Marlow
25th Thoma Mulvaney, Matthew Jones
27th Trevor Jones
May they rest in peace and rise in Glory
Supporting Our Poor Clare Sisters in Hawarden
2018 - Until the Sisters move to Nottingham later this year, we will continue to support them with food collections only. During January we will collect tins of fruit and tins of vegetables.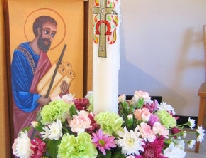 Quietness in Church
Be silent, be thoughtful, be reverent, for this is the house of the Lord. Before Mass speak to God. During Mass let God speak to you. After Mass speak to one another, but quietly, without disturbing those who are at prayer – ideally in the porch.
Our next PAC Meeting
Our next Pastoral Advisory Council meeting will be on Monday, 29th January at 7pm in Llay.
Our Foodbank in Wrexham
Please place your donations in the box at the rear of the Church. Please note that at present the Foodbank are requesting 200ml cartons of juice and tinned meat. They do not need any pasta, beans or soup.
"Familias"
(The Association for Catholic Diocesan Marriage and Family Life Ministry)
This Association is offering 3 bursaries of £1,000 to a family from each of its three regions in England and Wales (Northern, South East and South West) to support the cost of their attendance at World Meeting of Families. Applications must be made by 31st January 2018. To find out more visit: World Meeting of Families 2018
Familias Bursary Application Form – speak to Canon or Download a copy of the form here in Word or PDF format.
Sending the form to Margaret Hinton, C/O Bishops House, Sontley Road Wrexham. LL13 7E or email : margaretmfl@hotmail.co.uk
Synod on Youth Faith and Vocational Discernment
This General Synod will take place in Rome this coming October. We will be hearing (and praying) about this in the coming months.
Octave of Prayer for Christian Unity
As usual, from 18th to 25th January, ending with the Feast of Conversion of St. Paul. Please remember this intention in your daily prayers.
TCC Training Weekend
TCC is running a residential community organising training course this February at Noddfa Retreat Centre in Penmaenmawr. The course runs from 6pm on Friday 23rd Feb until 6pm on Saturday 24th Feb, with all meals and overnight accommodation included, and is free to anyone from a TCC member group, which this parish is. Do consider going – it is well worth while. For more information contact – tel:01978 262588 or www.tcc-wales.org.uk.
See notice and leaflets at the back.
Next Sunday (21st) – "Celtic Praise"
A united service of hymns and songs from Wales and Ireland, with prayers and readings to celebrate the Week of Prayer for Christian Unity – at St Martin's Anglican Church, Llay, 6pm. All welcome. See the notice at the back.
Parish Office Help
Help is required to cover for holiday absences. Work will mainly be the production of the parish bulletin and making essential payments. Knowledge of Windows is essential, full training given. Please contact Geraldine at the parish office or speak with Canon.
First Penance and First Holy Communion 2018
Preparation class at Llay this coming Saturday 20th, 11 to 12 noon. Children with parents or guardians. Do be there and on time.
CLICK TO PRAY
An app has been launched to allow people to pray with the Pope. See www.clicktopray.org for more information.
Our New Directory and Year Book 2018
Available from the porch at £2.50 – a fund of information on the parishes, Dioceses and organisations etc. of the Catholic Church in Wales.
"Adoremus" – The National Eucharistic Pilgrimage and Congress
Being held in Liverpool, 7th to 9th September 2018: Do remember the dates and pray fervently for its success.
Our Holy Father's Prayer Intention for January - Religious minorities in Asia
Christians, and other religious minorities in Asian countries, may be able to practise their faith in full freedom.
World Meeting of Families – 21st to 26th August 2018 In Dublin
To help us to keep this event prayerfully in mind each family was offered a beautiful prayer card on Sunday 24th December after Mass. There is still a small number of these cards available from the back. Do take them – and use them!
Vacancy for Midday Supervisory Assistant
Vacancy for Midday Supervisory Assistant at St Mary's Catholic Primary School. See poster at the rear. Closing Date Friday 2nd February.
HMP Berwyn
Mass is celebrated every Saturday at HMP Berwyn at 10.00am. It is good for the prisoners that local people should also attend. If you would like to attend – or find out more information – please contact Anne Coleman on 07922697525.
Christian Unity Week Service
Sunday 23rd January, at 7pm in Hope (Anglican) Parish Church. Do try to be there.
Health Walk
Health Walk each Tuesday 1.30pm at St Francis of Assisi in Llay organised by Don Downing. Have you been wanting to get exercise? Don't want to be on your own? A Health Walk is accessible to all regardless of age and ability. This Health Walk will last no longer than 30 mins and the distance and duration will depend on you. Walking can help with – mental health, sleep, diabetes, cholesterol, weight management and more. For further information contact the walk leader: Don Downing on 07548 643166. See the poster at the back.


Young People for Lourdes
We have been given the opportunity to take 10 young people to Lourdes with the Shrewsbury Diocesan pilgrimage. Whilst there they will be working alongside the sick, and in the hospital.
Although we don't yet have the dates the pilgrimage usually takes place during the last week of July into August and lasts for 1 week.
The Shrewsbury pilgrimage is a very large one. They take their own doctors and many sick pilgrims. The Youth Team assist wherever they are needed and work as Brancardiers and Handmaidens for the week.
Young people must be over 16 years of age at the date of travel and physically fit.
It is estimated the cost will be between £500 and £600 each and it is envisaged that this will be raised by fundraising with the aid of the Diocesan Youth Commission.
As places are limited we need confirmation by telephone or email of those who wish to take part before 25th January. Participants need to be able to commit to attend fund raising and team building meetings before we travel both in the Diocese and with the Youth Team at Little Sutton on the Wirral.
This is a fantastic opportunity which we hope to continue in future years. As Wrexham Diocese is not big enough to undertake a pilgrimage of this size, giving youngsters the opportunity to assist pilgrims at the Grotto, it is hoped that our young people will take up this opportunity. Our Parish will financially support any applicants from this parish.